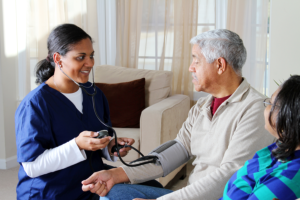 Defyd Healthcare Services is widely known for being a successfully and highly sought after provider of home health care services. We visit homes of clients who are home-bound due to illness, nursing injuries and managing disabilities.
We are also generally noted for providing experienced health professionals to major hospitals, homes and other healthcare facilities. We cover healthcare organizations and institutions as well as private homes in the Laurel, Maryland area.
Our secret to success is our dedication to duty and our competence which is unmatched. Our service provision is exceptional and the difference is always clear and there for all to see. Make a phone call today and you will be glad you did. Staffing services as well as home health care experienced personnel can be scheduled depending on your needs or your facility's staffing needs.
We are available to serve 24 hours daily, everyday of the week. Please call 410-262-1228 or send a message to Defyd Healthcare Services to inquire about home health care services and staffing solutions for the following: